Beschreibung
Tune out the world so you can get into your music.

The JBL DUET NC headphones combine eye catching design and premium materials to deliver the world-renowned JBL Signature Sound with wireless convenience and superior active noise cancelling capabilities. With their metal touches on the angled ear-cup and perfectly sealing ear-cushions in soft protein leather they offer an immersive, more enjoyable sound experience while featuring premium design. The Active Noise-Cancelling technology allows you to indulge in your music, nothing but music, both in wired and wireless modes. They also provide up to 24 hours of battery life in Bluetooth mode (up to 15 hours in Bluetooth and noise cancelling mode) and can be completely recharged in just two hours. Multi-tasking is made easy as the JBL DUETNC headphones will seamlessly switch between two devices ensuring that you never miss a call while enjoying your favorite playlist or watching a movie. In addition, you will also enjoy a detachable, tangle free fabric cord with one button remote, 3 different color options and a flat folding design for easy transportation in the premium carrying case.
Allgemeine Spezifikationen
Audio Spezifikationen
Dynamischer Frequenzgang (Hz)

20 - 20kHz
Akku
Maximale Wiedergabezeit (Stunden)

24
Ausstattung
Charging cable

Ja

Sprachassistent-Integration

Ja

Integriertes Mikrofon

Ja

Transportetui

Ja

Flach zusammenfaltbar für einfachen Transport

Ja

Telefonate per Freisprechfunktion

Ja

Kabellos

Ja

Aktives Noise-Cancelling

Ja

Wiederaufladbarer Akku

Ja

Fernbedienung auf Ohrmuscheln?

Ja

Bluetooth

Ja

Fabric cable

Ja
Lieferumfang?
1 x Pair of JBL Duet NC headphones
1 x Detachable Cable
1 x Charging Cable
1 x Carrying pouch
1 x Quick start guide
1 x Warning Card
1 x Warranty Card
1 x Safety sheet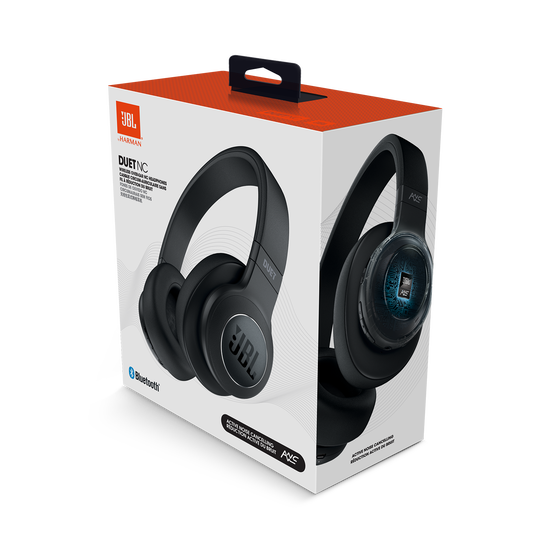 Dokumente und Downloads